v2.5 - Release, Biggest Update, New UIs, Discord Integration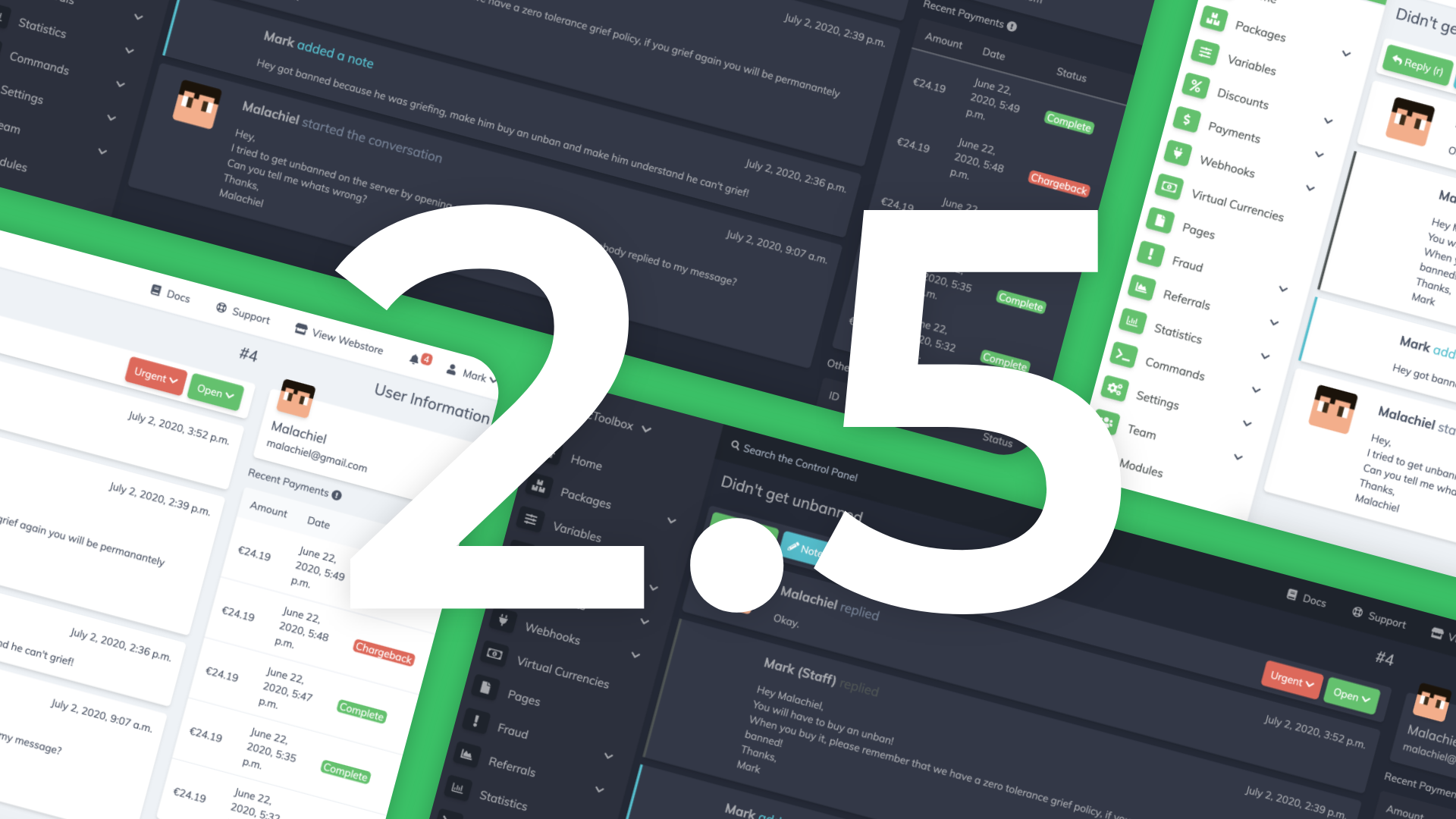 Today we are announcing the release of Donation Store v2.5-BETA, to all of our customers. Before continuing to download the new update,
I would suggest you reading through this blog post as it covers quite a bit of important information pertaining to the release. Let's get started.
What's in It?
v2.5 is by far the biggest update we've made to Donation Store. It brings the standard of the application in terms of features to a new level and also modernises it by giving it a completely new look. The full list of changes are as follows
Features
New Control Panel UI built from scratch by us (no template used)
New default store front UI built from scratch by us (no template used)
Configuration variables linked to a given template that allow you to store template specific information. In the new template, configuration variables allow a vertical and horizontal navbar to be achieved by changing a single value in the Control Panel
Discord Integration. I.e. sell packages that involve actions on your Discord server
Discord Bot
Comparison Features - Comparison charts now built into Donation Store and generated dynamically. No need to code yourself, give features for your category and give values for them per package
Automatic Updater - Donation Store can now automatically update itself using the automatic updater (will require v2.5 to be used)
Advanced Filter System - You can now filter a wide array of lists on the Control Panel dynamically using as many filters as you want
Random Commands - You can now mark a command as "Random" and give it a probability (i.e. chance of being picked) and Donation Store will automatically choose one command at random from the list for the user. Like a Loot Box. They will be emailed with the command that was chosen.
Player Referrals - Customer's can now refer another player at checkout in order to receive rewards set in the Control Panel
New WYSIWYG editor
Resend Commands - You can now bulk resend any number of commands from the past based on new command values
Player no longer has to be online to receive a command (configurable option)
Discord Server Module
Dark mode for the UI
Addition of Favicon
Coupon Notes added
Made second line of address optional
Added Delivery Confirmation API call to be more compliant for Paymentwall users
Fixes
Payment notes not saving on manual payments
Editing packages resets their order
No permissions infinite redirect
Subscription status irregularities
New Documentation
To accompany the new update, we've made some new documentation to cover some of the features we have implemented. If you plant to use any of these features, it is imperative that you read the documentation fully
For Theme Developers
In the last few months we have seen a huge increase in the number of third party developers making customised themes for Donation Store. Its really helped our customers give their store a unique feel.
Some examples are Rohan's new Tablet theme which you can see in our Discord channel. It really makes the store look fantastic.
With this, we have released a new default theme to give you a better look for your store which comes by default. Take a look at it here:
As you can see the new configuration variables can be used to change how the store looks both in terms of layout and colour. Heres the same store with a horizontal nav.
This is all configurable on the Control Panel with simple JSON. Theme Developers can take huge advantage of this in the future! There will be an upcoming video on how this works and a doc in the next coming days/weeks.
It also comes with a nice dropdown for changing languages
And it comes with a new slide out nav bar
One thing we have found difficult with themes is being able to track what has changed so we can tell our theme developers what to update between versions. To help this, we've placed the old default them and new default theme on GitHub. You can view that repository here:
https://github.com/DonationStore/templates
With the new update you can use GitHub's compare to view the changes:
https://github.com/DonationStore/templates/compare/8187c44..37336d6
Your more then welcome to fork this repo if you want to track changes to your templates!
New Plugin Versions
To be inline with some of the changes listed above, we've had to release a new version of each plugin. You can download this from the license section of your account!
Bugs etc.
Like all BETAs, there will be some bugs that might be found. Like always, bug requests mentioned here in general chats on Discord etc. will be ignored as they cannot be tracked. If you do find a bug, we urge you to please use our online Support Ticketing system:
https://donationstore.net/support/submit-ticket
It is the best way for us to keep track of bugs and to get them fixed.
Don't message me directly with bugs, however if you want to on Discord, put them in a ticket. But please, maintain a list of bugs somewhere in the thread that is easy to find and don't make multiple tickets.
Launch Sale
To be super nice, I've decided to create a launch sale to overwrite our current sale. Unlike other sales, this one will be very short and will work like this:
First 5 - €150 now only €69
Next 5 - €150 now only €79
Next 5 - €150 now only €89
Then back to full price!
So if you want to grab v2.5, do so as soon as possible! Use coupon TWODOTFIVE
Contact Me
You can contact me personally if you'd like on Discord Mark#1301, or through email: [email protected]
New Thread Design
Shortly, we will be showing off our newest thread design (it'll probably be there by the time you read this), go check it out and let us know what you think at:
What's Next
I'm not going to give a huge amount away but just to inform everybody that along with Donation Store, we are currently working on something else on the side. It's quite a big deal and will change things quite a bit. I hope to now focus my full attention on this now along with fixing bugs, I will share more information as soon as I can!
See you soon!
Mark
---
Comments