All the features we offer from our highly popular self hosted platform, all setup, monitored, scaled, secured, managed and hosted for you on the cloud, starting at only €11 per month*.
Coming early January 2021
* Monthly cost calculated on monthly turnover
Register your Interest
Contact Sales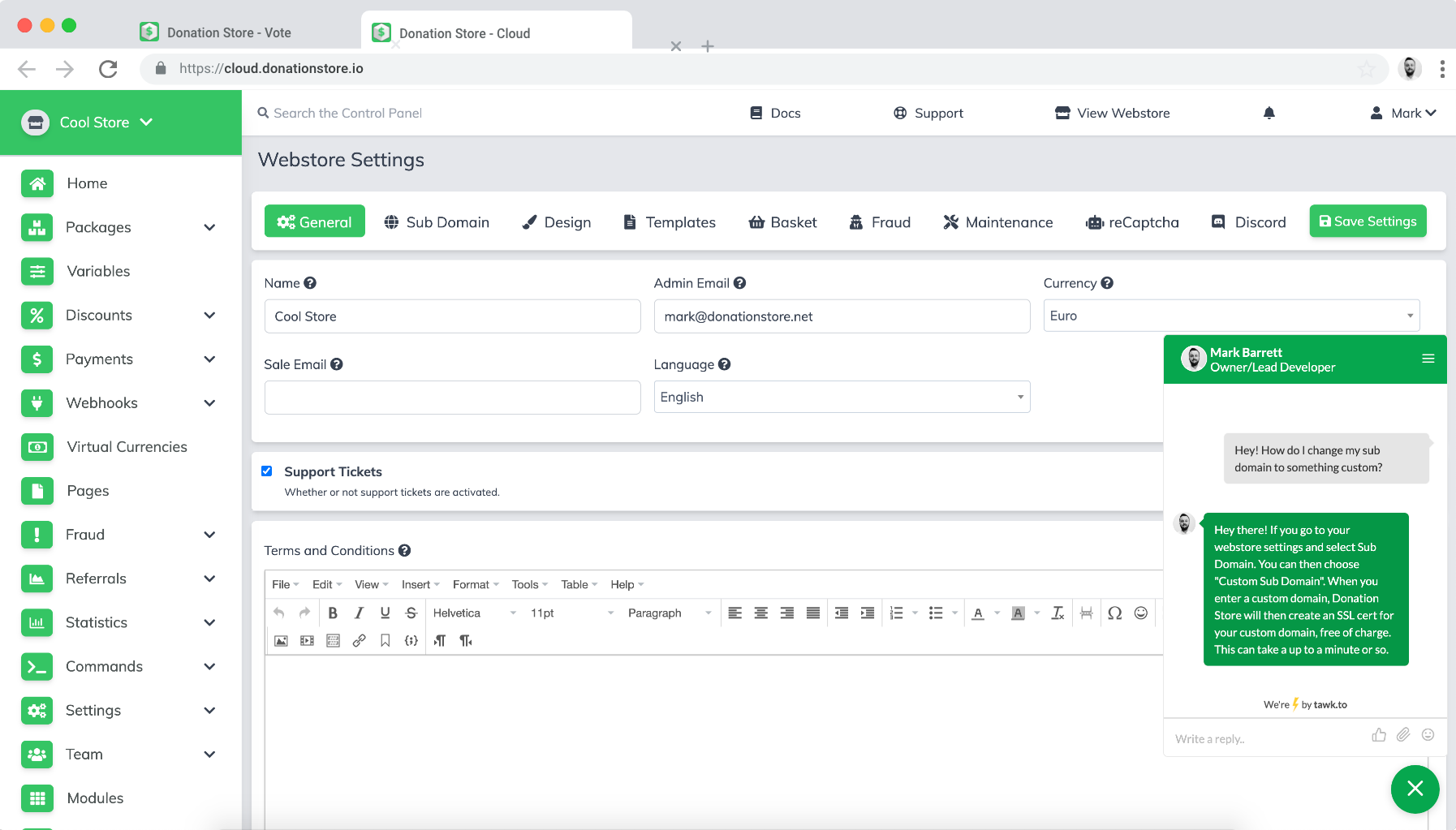 Free SSL Certificate
All domains whether custom or Donation Store based come with a free SSL cert included
Template Editor
Built in Template Editor so you can edit and customise HTML, CSS and JavaScript files or install 3rd party themes
Live Support
One on one Live Support with Donation Store staff built directly into Donation Store ready for your queries
Tailored Pricing
No tiered pricing based on features, everyone gets everything. Only pay more when you make more
No Setup Required
Get your store setup in less than a minute, no need for any configuration or downloading
Always Updated
Always updated with the latest version of Donation Store, plus access to beta features
Built in Marketplace
Built in 3rd party and official addon and theme Marketplace currently under development, coming soon
Built on Scalable and Powerful Infrastructure
To keep your store open, but also secure
All data stored is encrypted at rest using LUKS and secured in transit using TLS 1.3 by providing certs for all customers for free as standard on custom and default domains.
Donation Store Cloud is built and powerful and scalable infrastructure. It is built to scale as you do meaning that your store will never be bogged down as it becomes popular.
Your store is outside of your network meaning that any outages you may face, won't affect your store. Plus, we use industry leading protection against outages.
Register Your Interest
We are trying to gauge how much interest Donation Store Cloud has so we can plan our release.
By registering your interest you will be notified when Donation Store Cloud is released, but you will also get:
If you signup for a Donation Store Cloud plan when released, you will get some Swag (Laptop stickers etc.)
You will be notified before anybody else and given access first
Our love