A Simple but Beautiful
Control Panel
The Donation Store Control Panel was designed with usability in mind in order to present all of its features in a simple easy to access nav.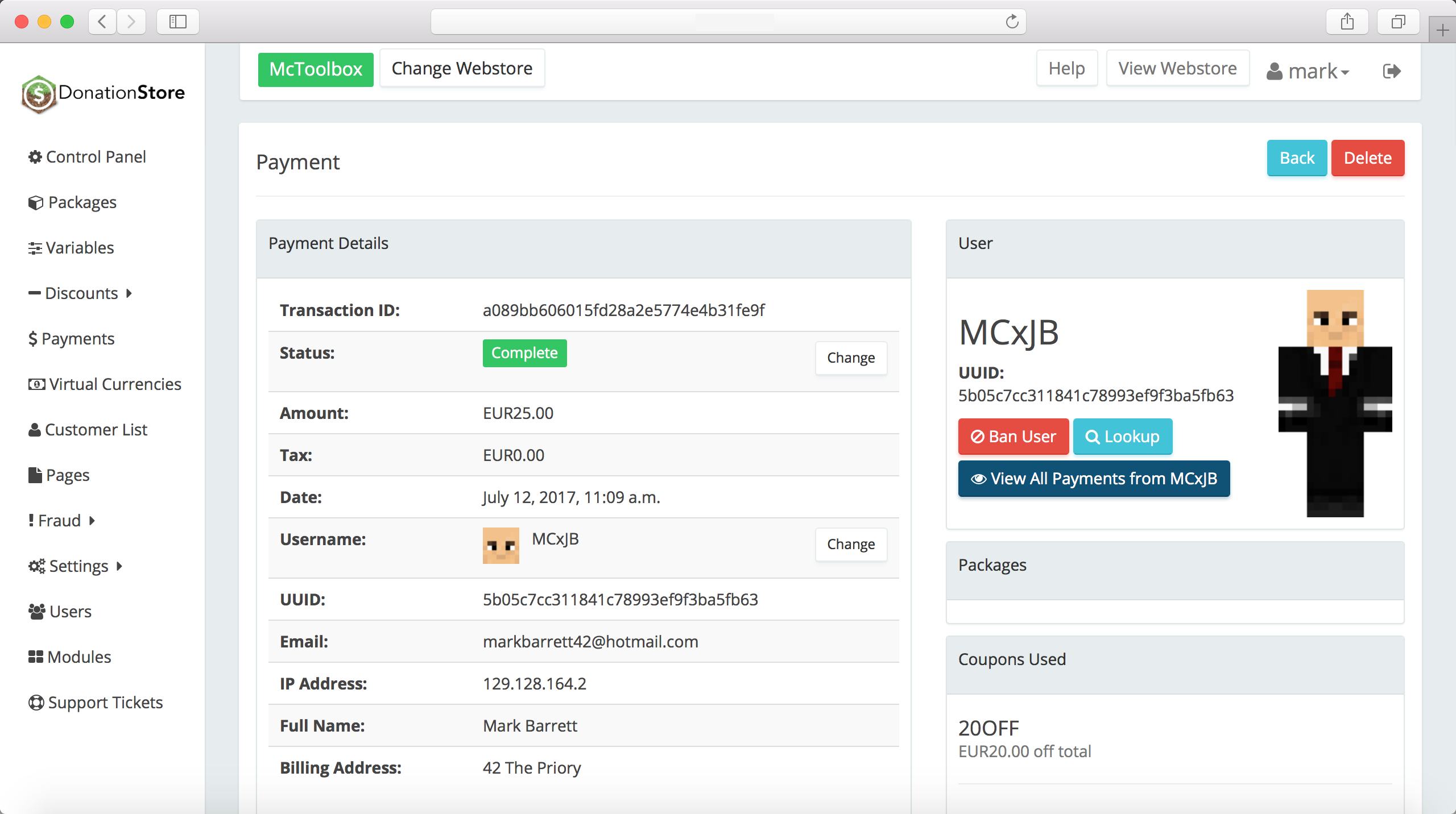 ---
Packages & Categories
Packages & categories are the foundation of any Minecraft webstore. They allow you to create real work packages that cost real money or virtual currency. These packages are then setup with commands that are executed when the package is purchased.

Organise your packages into categories and even have sub categories so you can offer your customers your products in a organised manner.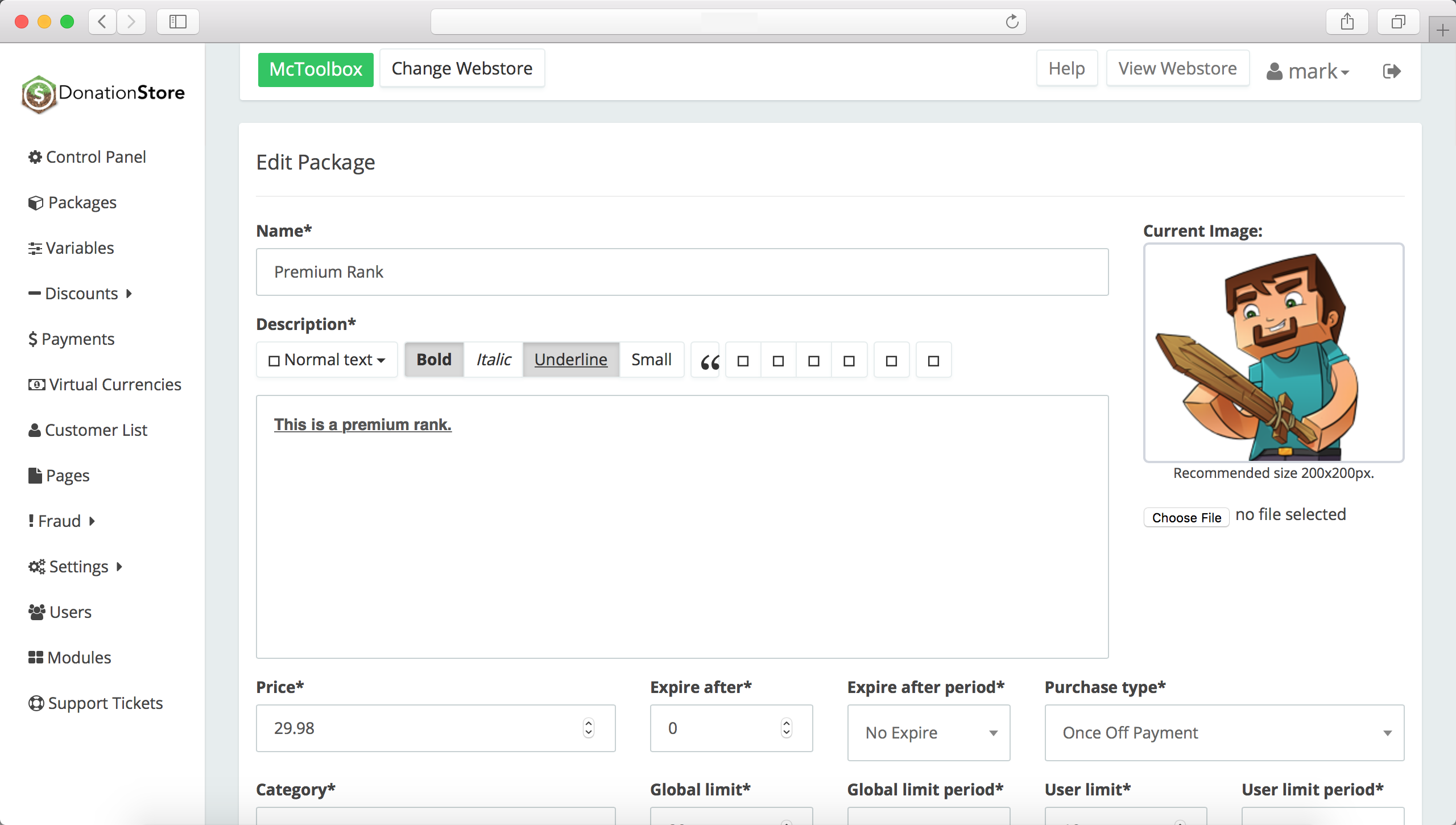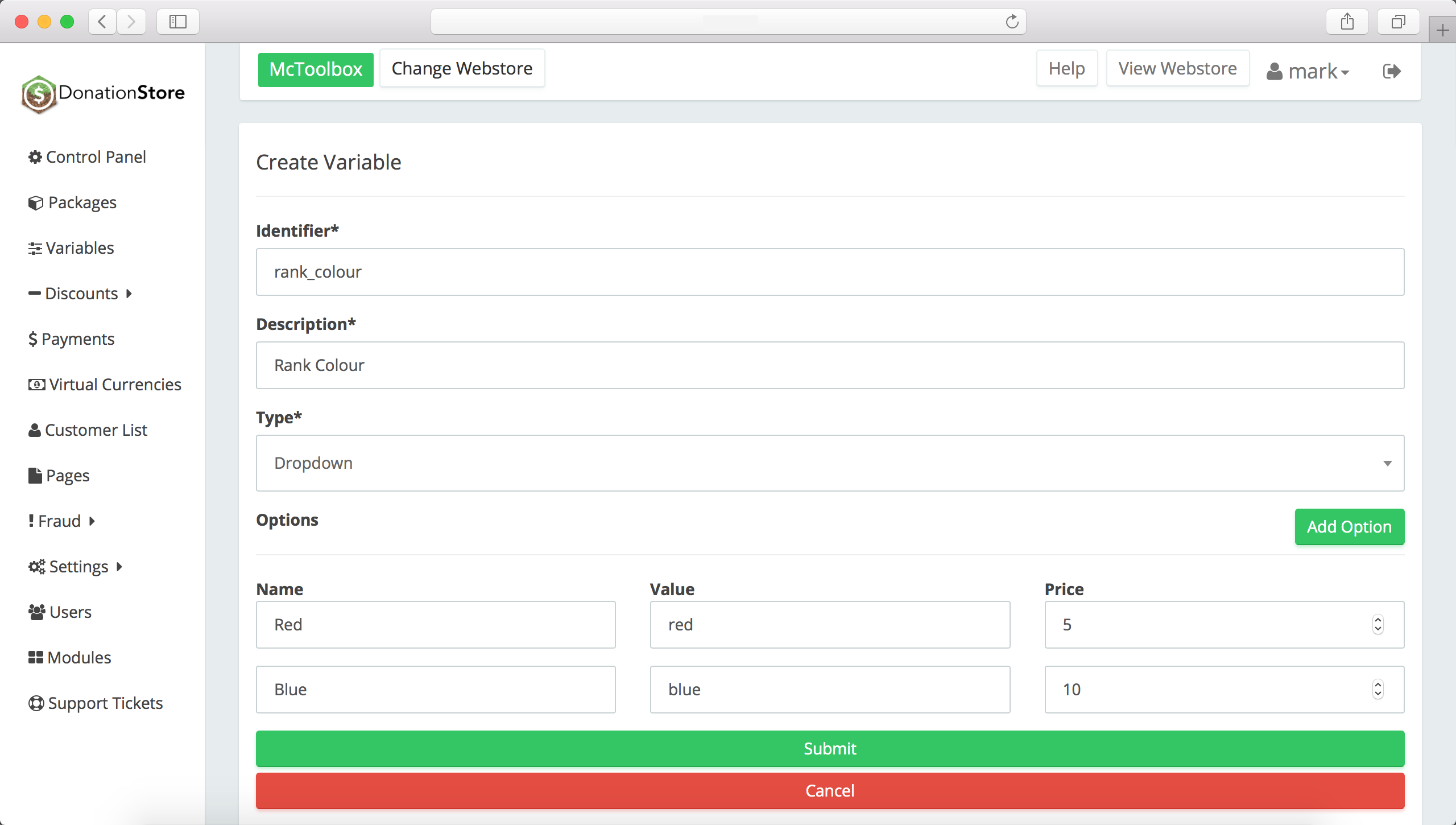 Variables
Variables are additional pieces of information that you can request from the user. These can come in the form of alphanumeric information or you can ask the user to pick an option from an already defined list created by you.

You can customise their package by asking for additional information and also charge customers more money for particular options.
Coupons, Sales & Gift Cards
Coupons, Sales & Gift Cards are the main discount items provided with Donation Store. Coupons can give amount discounts or percentage discounts on chosen packages or everything. Redeem limits and expire times can also be set. Sales are applied without the need to enter a Coupon code

Gift Cards can be purchases that can be used on the store. The number of coupons and gift cards per basket can also be changed.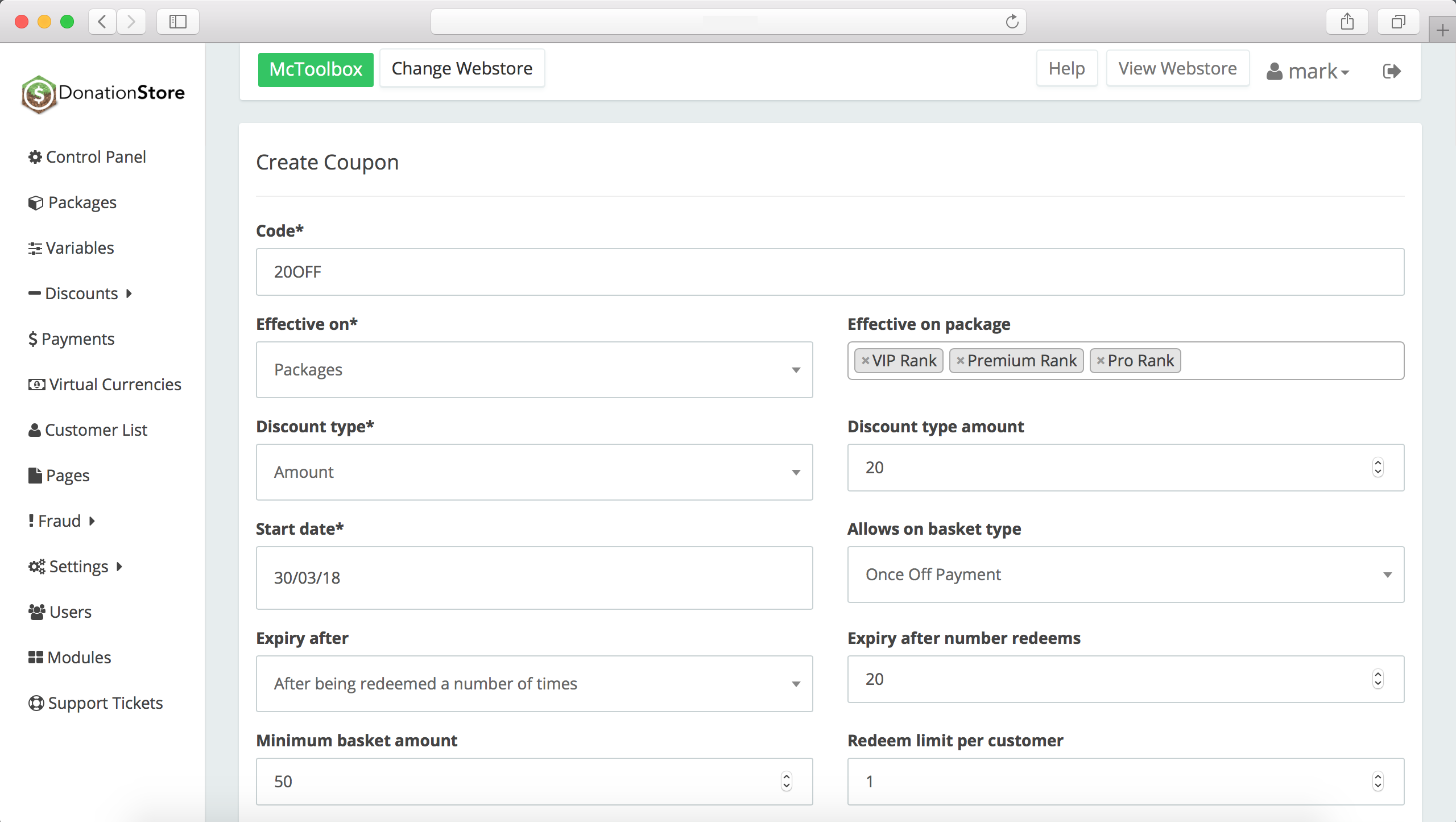 Virtual Currencies
Virtual Currencies can be purchased by users with real money which is equated to the exchange rate you set. These currencies can be used to purchase certain packages (chosen by you).
You can also hook your current currency economy on your server into Donation Store's plugin (or use the built in one), and award players with currency they can spend on your store for doing particular tasks, like voting on a topsite etc.
Pages
Donation Store has a fully fledged CMS which allows users to create pages that can be hidden, password protected or login required. The layout on these pages can be changed and each individual column can be filled with as many pre made modules as you would like. These are ideal for staff pages or for implementing features outside the scope of a webstore.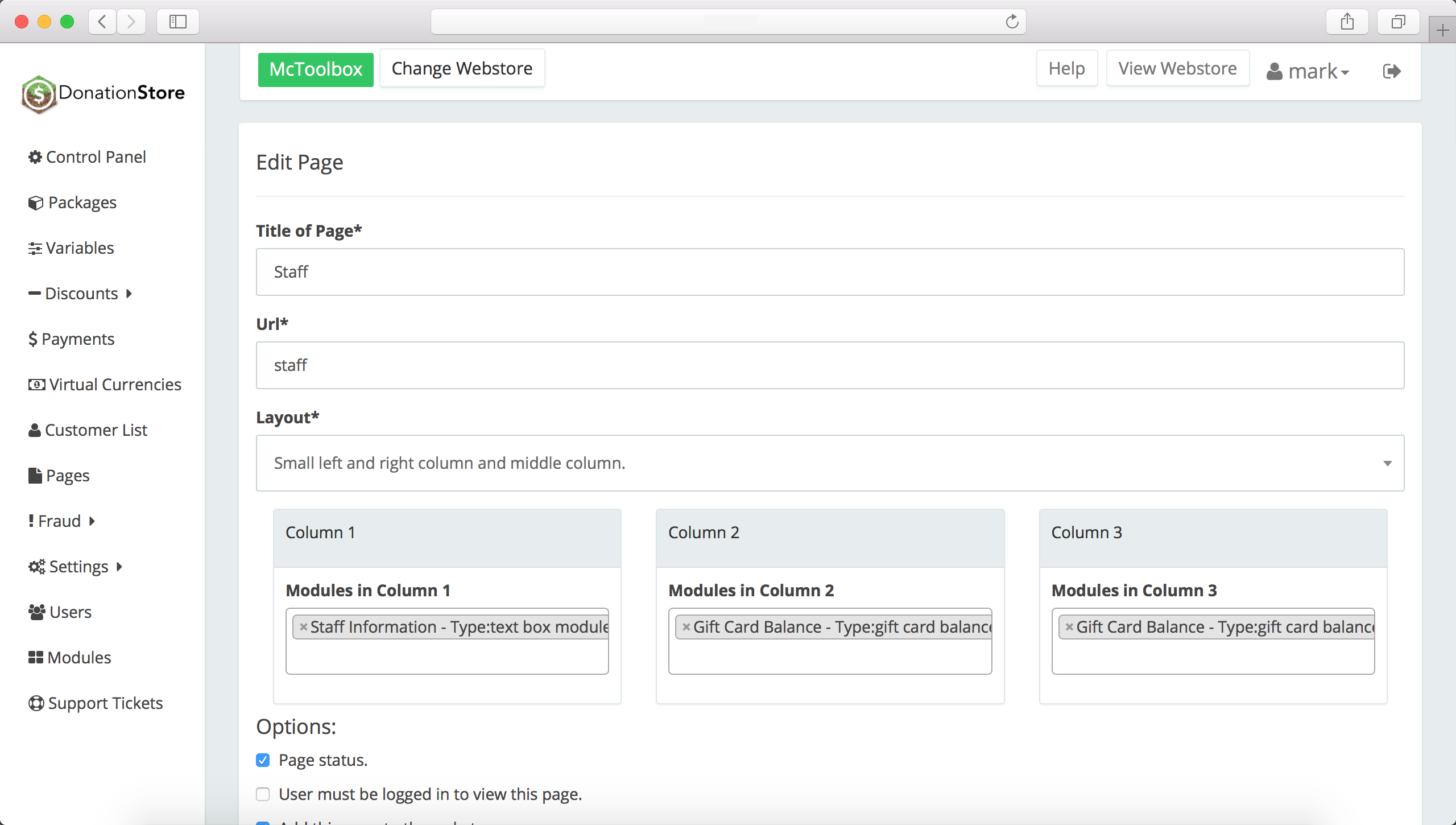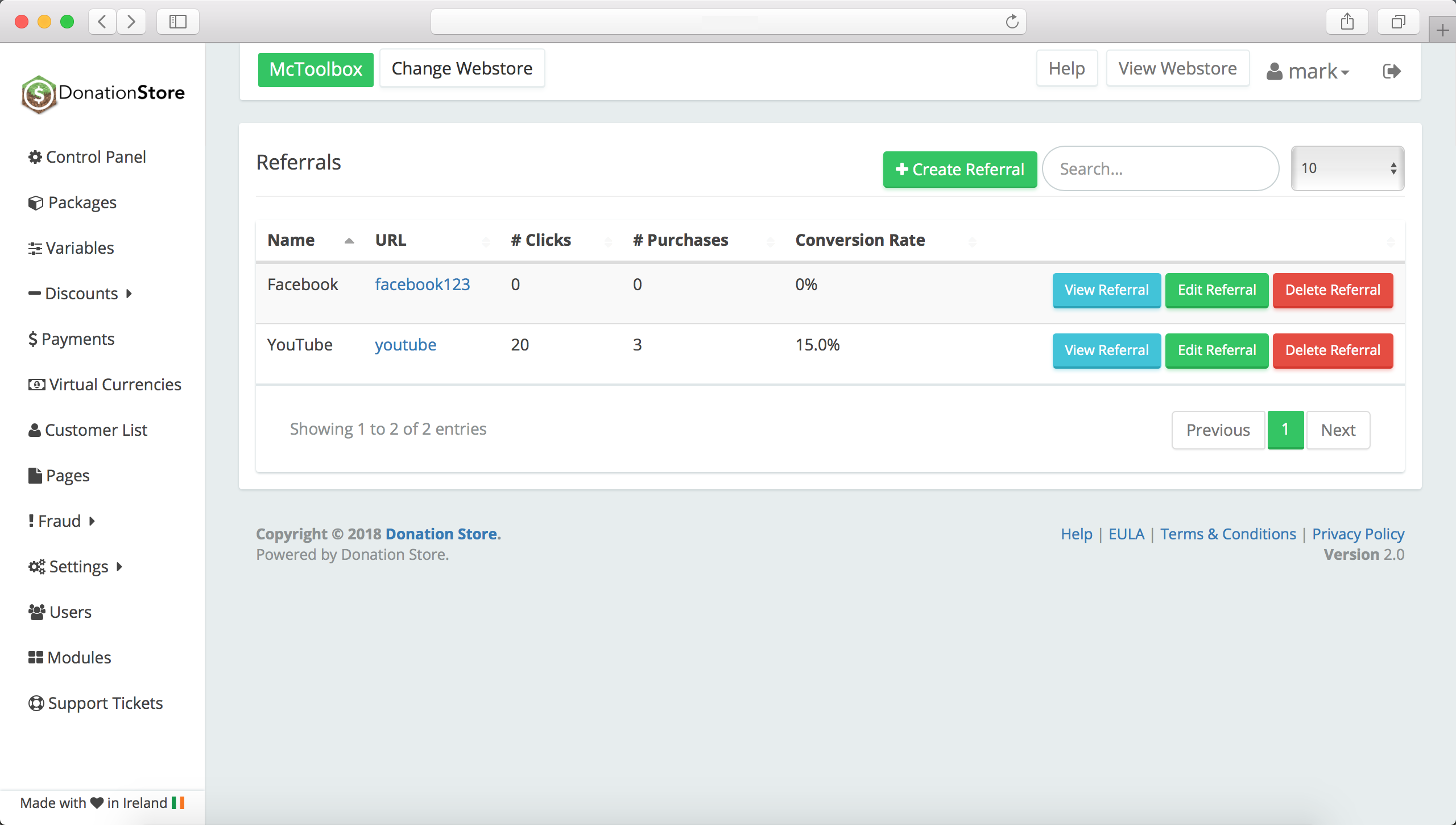 Referrals
Referrals can be setup to track user's purchases. You can create referral links which when used are tracked. The number of clicks is recorded, but so to is the number of purchases. If a user uses the link and makes a purchase then the purchase is recorded and the conversion rate is calculated. Conversion rates are excellent indicators to see how effective a particular link is.
Modules
Modules are pre built features which can be integrated with your pages or you webstore. They include things like checking Gift Card Balances, Show the Top Customer, Text Boxes, or even Featured Packages and Payment Goals. A webstore can have as many modules as it needs and custom modules can be built to extend the pre built features of Donation Store. Custom modules can be built using the Donation Store Developer Documentation which is provided for every person who purchases Donation Store.

Don't like the Control Panel?
Not a problem! With Donation Store, customers get complete access to source code meaning that they can customise every aspect of it. Don't like where something is placed? Don't want a particular feature, or just want to make your control panel match your networks colours and give it a professional unique design, now you can!
We know how annoying it can be when you use a site for a longtime and they decide to change the layout/theme. Revert to an old version, or use your own custom version to stick with what suits you whilst taking advantage of all the latest and greates features!

Check out our Docs for Information Regarding Customisation
Ready to get started?
Have you seen how awesome Donation Store is? Click get started if you would like to start getting Donation Store implemented for your network. If not, contact us and we can give you more information!